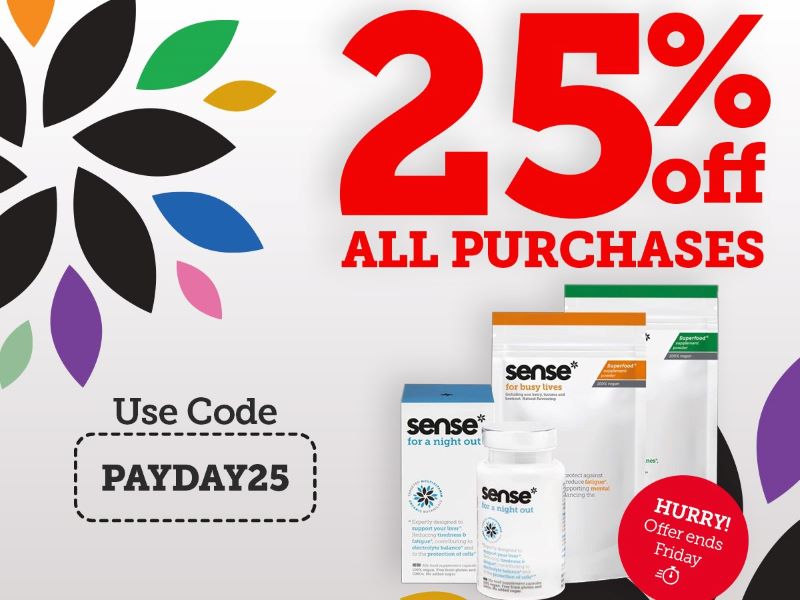 GAME CHANGER FOR 2020
Hi sense* tribe, Just wanted to give you a heads up that this will be the LAST lightening deal, spot deal, heavy discount promo…call it whatever you wish…for the whole of 2020!! We reserve the right to do something bigger for November (Black Friday and the following week) and January but that will be it.   So hurry!
Why?  Because we are changing the outlook, getting more mature as a company. We recognise that health is not just a once in a while thing.  Lots of you have told us that you don't subscribe for regular delivery.  You like the lightening deals too much.  Which means you often get an interrupted supply or go back and forth between brands.  Not healthy!
So we are going to focus on subscription for the rest of 2020, providing a whopping 15% off plus FREE DELIVERY from 1st August every month.  We have never done free delivery before but we feel that if you are going to commit to us, we really need to push the boat out for YOU!
In addition, we give YOU the Subscription Promise "We will not discount any single item by more than 15% with free delivery other than twice per year (usually January and November)"!  Sound good:)
Doesn't mean we are ignoring those of you that still don't feel fully comfortable with subscription for whatever reason. Even if it is the best deal ALL year; even if it is flexible for payment dates (4, 6 or 8 weeks); even if you can pause or cancel any time because there is no contract.  Think about it, the convenience of it!  Plus it will encourage you to build sense* into your routine…health sense…makes sense*
We are going to support you guys too with a new pricing structure which we will trial throughout August.  If this is to everyone's liking then we will push the button to go full time in September.  Watch this space!
I hope you like the sound of these Game Changers.  Feel free to email me at [email protected] with your thoughts.
Stay safe and well!
Best wishes
Jonathan
Ceo & Founder